Engine Base Gaskets a la carte | Bultaco Various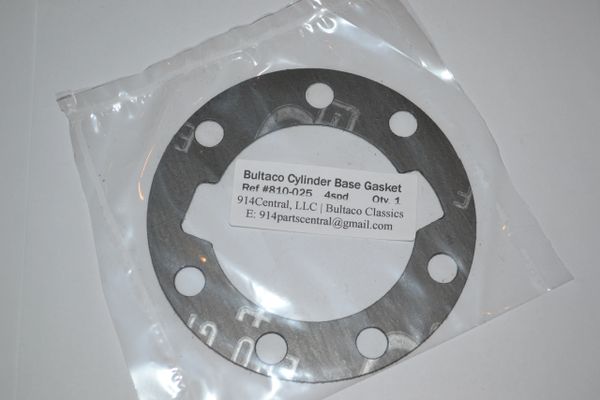 Engine Base Gaskets a la carte | Bultaco Various
New reproduction replacement engine base gaskets! Correct fitting and function. Made in the USA and Spain.
Mixed manufacturers/material colors.
Please read the fitment below carefully for your model. You get (1) gasket.
Due to running changes by the Bultaco factory there can and is some overlap on the gaskets.

For example: A Model 75 Matador has the Model 26 barrel stud layout/cylinder + head. The #75.10-025 base gasket does not fit. You need the Model 26 #42.10-025 base gasket.
#810-025 Fitment:
Excludes Lobito Model 19/32 & Pursang Model 11
All 4-Speeds.
#30.10-025 Fitment:
Lobito Model 54, 59
Sherpa S Model 30
Tiron Model 73
#42.10-025 Fitment:
Alpina Model 85, 98, 115, 137, 165, 187, 212
Campera Model 28, 36
Lobito Model 76, 83, 84
Matador Model 26, 75
Metralla Model 23, iT-23 "El Tigre"
Pursang Model 42, 48, 68 to eng. #68.01.858, 89, 100, 101, 102, 117
Sherpa S Model 44, 45, 66, 67
Sherpa T Model 27, 49, 80, 91, 124, 150, 158, 182, 190

#43.10-025 Fitment:
Alpina Model 97
Lobito Model 53, 62, 74
Sherpa S Model 43, 63
#75.10-025
Fitment:
Astro Model 90, 105
Matador Model 75, 82, 107
Pursang Model 68 from eng. #68.01-859, 86
#87.10-025 Fitment:
Alpina Model 99
Astro Model 106
Pursang Model 87, 104
Sherpa T Model 92, 125, 151

#103.10-025 Fitment:
Astro Model 145
Frontera Model 152, 180
Pursang Model 103, 120, 167, 170, 192, 200

#112.10-025 Fitment:
Astro Model 146
Frontera Model 143
Pursang Model 136, 168, 206, 207

#116.10-025 Fitment:
Alpina Model 116, 138

#121.10-025 Fitment:
Astro Model 123
Pursang Model 121

#159.10-025 Fitment:
Alpina Model 166, 188, 213
Matador Model 140, 210
Sherpa T Model 159, 183, 191, 199

#162.10-025 Fitment:
Pursang Model 162
#193.10-025 Fitment:
Pursang Model 193
#194.10-025 Fitment:
Pursang Model 194
Reviews